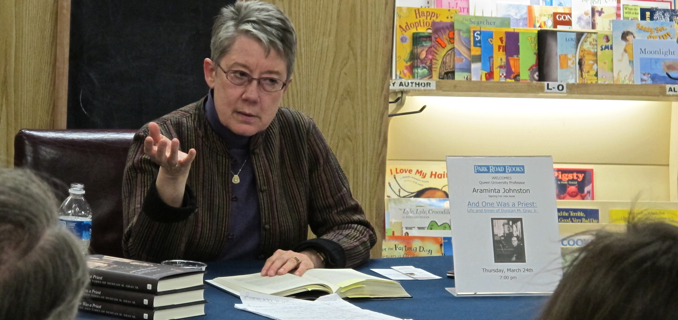 March 24, 2011
Friends, colleagues and students of Araminta Stone Johnston attended this evening's reading at Park Road Books in Charlotte.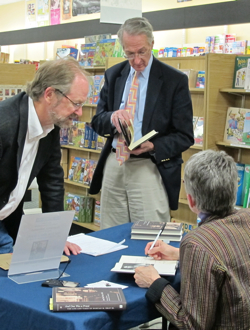 The author signed copies of And One Was A Priest purchased by a number of people who attended. After the reading, she signed the remaining copies in the bookstore's inventory for those who buy the book later at the Park Road Shopping Center store.
Questions ranged from, Where did you get the title? (a familiar Protestant hymn), to the role Bishop Duncan M. Gray Jr.'s wife Ruthie played (very supportive, but in the background), to whether "the real story behind Eudora Welty and Truman Capote"  is in the book ("No, I'm sorry, it's not!").
Commented Dr. Lynn Morton, Dean of the College of Arts & Sciences at Queens University of Charlotte where Johnston teaches in the Philosophy and Religion Department:
"I knew nothing about the subjects in this book. But it is such a compelling story. It is a very human story, in addition to the historical context, and I think it will touch people in so many different ways.
"I found it to be a real page-turner, even though I knew nothing about him at all. But it's very down-to-earth, and very human. You've really captured that so well."
The bookstore is located in Park Road Shopping at the corner of Park and Woodlawn Roads. See their website.