http://canondioms.blogspot.com/2016/07/celebrating-bishop-duncan-m-gray-jr.html
TUESDAY, JULY 19, 2016
Celebrating Bishop Duncan M. Gray, Jr.
[Homily delivered by the Rev. Canon David H. Johnson]
PROPERS: BURIAL OF THE DEAD, RITE II
TEXT: ROMANS 8:14-19,34-35,37-39
PREACHED AT THE FUNERAL OF THE RIGHT REVEREND DUNCAN M. GRAY, JR., AT ST. ANDREW'S CATHEDRAL ON TUESDAY, JULY 19, 2016
ONE SENTENCE: The life of Duncan Gray, as admirable as it was, is not an object of emulation; He pointed us toward the North Star, the true object of faith.
Some years ago, just before I left Starkville to join the diocesan staff, our home phone rang. Daughter Leigh answered it.
"Daddy," she said, "It's Bishop Gray."
That was not enough information. There was more than one. "Which Bishop Gray?" I asked.
Her response was immediate and emphatic: "Bishop Bishop Gray," she said.
That was all I needed to know. Bishop Bishop Gray answered the question.
You know what I mean.
+ + +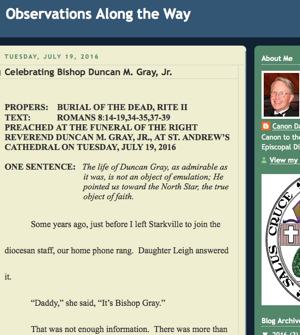 Some years earlier, Scott Lenoir and I were traveling from Starkville, to attend a golf gathering in North Carolina.
It was just past dusk when we were driving east on Highway 82, between Starkville and Columbus. A bright light appeared in the darkening eastern sky.
"What is that?" I asked Scott.
Scott is an experienced astronomer. He said, "Oh, that's Venus."
We drove along quietly for a few minutes as I watched the light. It grew brighter and closer.
"Don't look now," I said, "but Venus is about to land at Golden Triangle Airport."
+ + +
Naval officers are going through some old-fashioned training these days. Knowing that they rely too much on technology to determine their location on the seas, they are once again learning the skill of dead-reckoning – relying on celestial bodies to give their positions.
As the experience Scott Lenoir and I shared indicated, there are a lot of false indicators in the world. There are planets, there are airplanes, there are brief-but-dazzling shooting stars, and there is the constant: The North Star.
Likewise, in this world, there are a lot of bright, glittering, superficially persuasive ideas, philosophies, and approaches to life. They are attraxctive and distracting.
For thousands of years, navigators have looked toward the North Star to gain their bearings, and to know where they are.
Likewise, many people seek to find their bearings in a very complex world. We seek the spiritual North Star.
+ + +
Duncan Montgomery Gray, Jr., was not the North Star, but he pointed us toward it. His life was a persistent pointing toward that which would ground us – faith in Jesus Christ.
+ + +
It would be easy to reduce the span of nearly 90 years to one event – significant and important, though it was. His life was so much more; so rich; so profound; so impactful.
Thousands of people – over a period of more than 60 years – found their bearings because of the way he pointed.
+ + +
He was a man of courage – that we all know.
The story of his attempt to quell the rioting crowd at Ole Miss on September 30, 1962 is well known. Less well known is the stance he took as president of the School of Theology student body in 1953 – even in opposition to the university's administration.
And there was the courageous leadership he provided in the tense days in Meridian – when synagogues, churches, and homes were being bombed, and deadly threats were a part of life.
But he was not the North Star.
+ + +
He was faithful – especially to his wife and family. Of course, his marriage to his beloved Ruthie for more than 63 years is well known. They were inseparable. They were utterly devoted to each other.
I recall that he had a sign on his credenza in the old diocesan office at the Cathedral. It said, simply, "The greatest gift a father can give his children is to love their mother." And he did.
He and Ruthie reared four children – Duncan, Anne, Lloyd, and Catherine. They have carried their father and mother's character forward.
But he was not the North Star.
+ + +
He was steadfast. This is a man – who, as priest and as bishop – faced many difficult times. Yet he maintained his course – difficult though the times may have been.
I had a brief glimpse of his steadfastness in a dark restaurant in Hattiesburg many years ago. I had to be the bearer of some very difficult news. As we sat there and I told him what I needed to tell him, his eyes closed, his brow furrowed, and his hand closed tightly as he processed the news. I glimpsed a bit of the awesomeness of the responsibility which was his.
But he did not flinch. He did what was right. No one else knew what he carried with him.
But he was not the North Star.
+ + +
He was a mentor. Lowell Grisham wrote of the fact that Bishop Gray was his childhood priest – and a model for him of what a priest should be. And, he noted, that there are probably several hundred of us who feel that way.
During his 19-year Episcopate, he ordained 58 deacons and 56 priests. Many of us here were formed by his steady guidance, his wise mentorship, and, perhaps, most of all, his resilient patience.
But he was not the North Star.
+ + +
He was an evangelist. He preached the Word. He led by example. He brought people into the faith and showed them the pathway towards the light.
During his Episcopate, he baptized 852 new Christians. He confirmed or received 11,446 Episcopalians. He preached 2,034 sermons. And, Lord knows how many miles he traveled.
But he was not the North Star.
+ + +
He was humble. Even though most of us knew what a remarkable man it was we were walking with, he never seemed to realize that himself. He was modest, self-effacing, and he always pointed toward others when credit or praise was appropriate.
He was admired among his peers – both of his order and of his generation. His wisdom was valued; his perspective sought. Yet, he never seemed to bask in that praise.
Ruthie summed it up so well. "You know what's so wonderful is that he doesn't even know it."
But he was not the North Star.
+ + +
Suffice it to say, that he knew he was not the North Star. And I think he would want us to be mindful of that reality at this moment… even as we focus on a life well and faithfully lived.
His death… his body present here with us… points us instead toward the seamlessness of God's realm – just as his life pointed us toward the Ground of Our Being. Though we look through a glass darkly, we are able to glimpse, through eyes of hope, the eternal reality to which he pointed so relentlessly.
And that reality is summed up so powerfully in the words of Paul we read today:
No, in all these things we are more than conquerors through him who loved us. For I am convinced that neither death, nor life, nor angels, nor rulers, nor things present, nor things to come, nor powers, nor height, nor depth, nor anything else in all creation, will be able to separate us from the love of God in Christ Jesus our Lord.
He showed us the way. He pointed us to the North Star. He wants us to follow.